Clouds are suspended horizontally from the ceiling to provide customized acoustic solutions for large areas. Choose from Absorptive or Reflective to control sounds in shopping malls, convention centers, theaters, halls, music rooms, and arenas.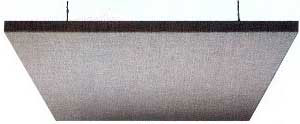 Absorptive Ceiling Clouds Effectively reduces reflective sounds in large areas. Constructed of a glass fiber core with faces and edges wrapped in a wide selection of fabric or perforated vinyl.      Mounting: Clouds come with attached clip/eyelet attachment for easy suspension from ceiling with wire.      Thickness: 1/2″, 1″, 1-1/2″, 2″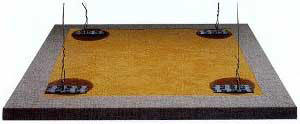 A highly effective treatment for reduction of sound reflection, the Ceiling Cloud is suspended horizontally with a clip/eyelet combination. Face and edges of the glass fiber core are wrapped in fabric or perforated vinyl to match or accentuate the room decor.      Thicknesses and NRC Ratings: 1″ (.90-1.00), 2″ (1.10).      
A. SCOPE This section includes all of the Acoustical Ceiling Clouds by Custom Acoustical Products      
B. MATERIALS   
The Acoustical Ceiling Clouds shall be constructed of one piece of 7 PCF noncombustible and dimensionally stable glass fiber core. Each one piece unit shall be (1/2″),  (1″), (1-1/2″), (2″) in thickness and in length and width as required. All edges shall have internal edge protection. The edges of the Ceiling Cloud shall be (square), (radius), (bevel), (half-bevel) and corners (square), (radius).

 

The face, all edges, and a return on the back of a minimum of 1-1/2″ shall be covered with (nonwoven or woven polyester fabric), (perforated vinyl), (manufacturer approved custom fabric).

 

The Acoustical Ceiling Clouds shall be mounted utilizing a clip/eyelet combination.

 

The Acoustical Ceiling Clouds shall have a Noise Reduction Coefficient of (0.90 – 1.00, 1.10) using ASTM C423-81a, Sound Absorption and Sound Absorption Coefficients by the Reverberation Room Method.

 
  C. JOB CONDITIONS  
 
Installation of all  Acoustical Ceiling Clouds shall not begin until all wet work, such as plastering, concrete, etc. is completely dry. The ceiling clouds are designed for installation under standard occupancy conditions from 60ºF to 85ºF and at not more than 80% R.H. in an enclosed building.

 

The contractor shall be responsible for the examination and acceptance of all surfaces and conditions prior to the ceiling cloud installation.

 
  D. INSTALLATION  
 
All  Acoustical Ceiling Clouds should be installed in accordance with the manufacturer"s specifications and recommendations.

 

All necessary hardware and accessories for the complete job installation are to be furnished by the contractor.